The last day of school term finally arrived, announcing the beginning of summer holidays for millions of Brits looking for sea and sun. While some will head to European seaside resorts, there's no need to leave Britain to enjoy sunny holidays, beautiful landscapes and golden sand.
We had a look at Britain's most popular seaside resorts for this summer and how to get there.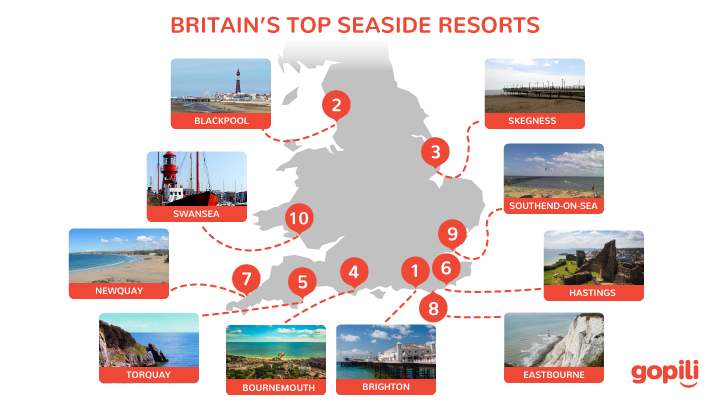 The results are based on the number of searches made by Brits to travel to UK seaside resorts, between the 22nd of July to the 31st of August.

Brighton and Blackpool are Brits' most popular resorts for summer holidays, Skegness complete the podium. Among Britain's top 10 seaside resorts, eight of them are on the south coast. Whether you're looking to explore multi-colour cliffs, walk over the sea on seaside piers or sunbathe on sandy beaches, Britain has a huge variety of landscapes to enjoy your summer holidays.

How to travel to Britain's most popular seaside resorts?
These 10 seaside resorts are easily reachable from all over UK by different modes of transport including train, coach & ride share. We help you find the best option for your journey by comparing all transportation modes in one search.

> Find the best travel option with Gopili

Related Posts

The EU referendum is less than a month away. While experts predict Brexit will increase the cost of travelling to the continent, we noticed a significant...

The first of the May Bank Holidays is almost here, offering the perfect chance to enjoy a three-day break. What are the most popular Bank Holiday destinations...